Visual Description:  Clowny Children's Clinic.
TWIHSC  =  SWITCH,  DIONGI  =  INDIGO,  CREBHA  =  BREACH,  PUOAEQ  =  OPAQUE,  NDYEOK  =  DONKEY,  NLFELA  =  FALLEN   —   Giving us:  STCIIGBRAOPDKEFA
Clue/Question:  The entertaining children's doctor had a – – –
Pre-Answer:  Three Words  (3-letters)  (2-letters)  (11-letters)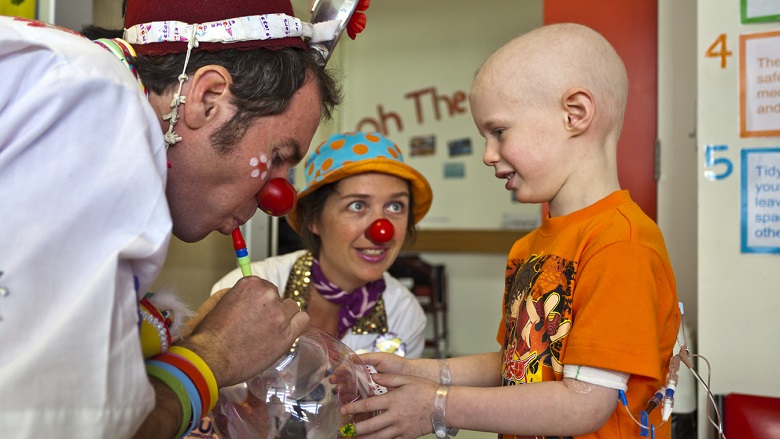 Answer:  BAG OF "PEDIATRICKS"
(Very sneaky Jumble pun!  I think this might have been an easier solve had there been a hyphen between PEDIA and TRICKS.  I got BAG OF right away, but I couldn't do anything with STCIIRPDKEA.  So, I wrote out the consonants and the vowels, separately, in alpha order.  My daughter and I both thought TRICK had to be part of it, but didn't see how, for a while.  Finally, looking at the DPSAEI, it finally hit home.  Yes, my daughter got it first!

No new clue words.  Five new jumbles, but we have seen "diongi" before.  They were all great jumbles, but I was able to get them right away.  The answer letter layout was a super sixteen letter jumble.  For me, it disguised the final answer very well.
Amusing cartoon.  It put me in mind of "Patch Adams", starring Robin Williams.  This summer Robin will be gone seven years!  Hard to believe.  He was such a talent.  Be well and do good, friends.)   —   YUR
Images courtesy of Google