Visual Description:  NOT Bob Newhart!
GNTIE  =  TINGE,  GAAED  =  ADAGE,  RYELEM  =  MERELY,  TAISHU  =  HIATUS   —   Giving us:  TIGDAMEETUS
Clue/Question:  To come up with revenue projections, the owner of the inn – – –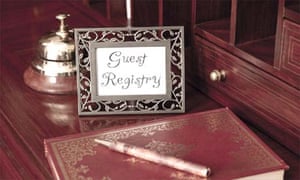 Answer:  "GUEST–IMATED"
(Great pun of a pun . . . I guess!  Or, should that be a sonuva pun?  An estimate is usually based on a certain amount of knowledge.  When you really haven't a clue you make more of a guess-timate.
There's No Vacancy at the ralis95 clue word database, but that doesn't matter at all today.  Three of the jumbles are coming up as new, but we've seen "gntie" sometime before.  The answer letter layout was an enigmatic eleven letter jumble.  But something about the quotation marks and the hyphen brought me the answer like a bellhop looking for a big tip.
Cute cartoon of a couple running an inn.  I'd rather have seen Mary Fran and Bob Newhart, but I guest that's been done before.  Great show though.  I haven't seen it since the series ended.  I wonder if it's on MeTV or the COZI channel?  Be well and do good, friends.)   —   YUR
Images courtesy of Google