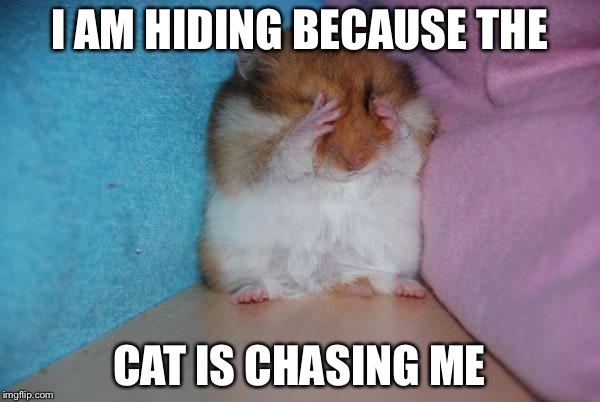 Visual Description:  Toying with the prey.
RAVEW  =  WAVER,  CANTE  =  ENACT,  NLIDSA  =  ISLAND,  GUTORH  =  TROUGH   —   Giving us:  AEREACTISLDTGH
Clue/Question:  When the hamster saw the cat getting too close, it – – –
Answer:  RATTLED HIS CAGE
(Figuratively and literally!  That guy better keep Sylvester well fed, or else that poor little hamster is in for a really rough existence.   And, maybe a short one!  As sweet and as cute as cats can be, they are also nature's purest predators.  There are movements out there to mandate that house cats be kept indoors at all times, because of the carnage they reap.  Actually, it doesn't seem to matter much how well fed they are.  The instinct to hunt . . . and kill . . . is just so strong.
No new clue words today.  Two of the jumbles appear to be new, but we've definitely seen "cante" and "gutorh" before.  Naturally, "gutorh" gave me problems.  I thought "rought" for a bit.  I guess I kinda backed into "trough".  The answer letter layout was an impressive fourteen letter jumble.  But, the final answer slots and the great cartoon made it a fairly easy solve.
Great cartoon!  That chubby little hamster, besides needing an exercise wheel, looks terrified!  And, the puddy tat has that Just you wait! look on its puss.  Pray for the prey!  Be well and do good, friends.)   —   YUR
Images courtesy of Google