Visual Description:  Exploding unicorn!
TEYNR  =  ENTRY,  NUHOD  =  HOUND,  NRIHED  =  HINDER,  CGENAH  =  CHANGE   —   Giving us:  ETHUHIG
Clue/Question:  They made a giant pinata for the party which was a – – –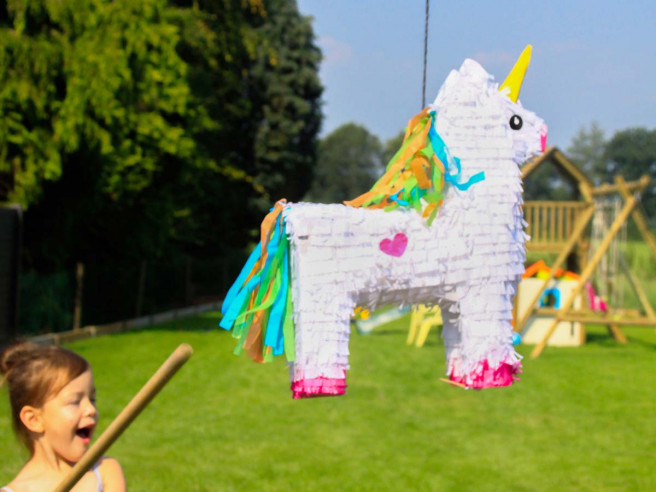 Answer:  HUGE HIT
(Sometimes it really takes a huge hit to crack those suckers.  Occasionally, they make them too strong, and they don't want to break.  But, once you find that sweet spot . . . the sweets will spill out!
We've seen all of thoday's clue words before.  Two of the jumbles are coming up as new, for me, but we've definitely seen "teynr" and "nuhod" before.  The answer letter layout was a simple seven letter jumble.  Before looking at the cartoon, my eyes went to HIGH first.  I soon realized I needed HIT though.
Fun cartoon of a children's party.  Very likely a birthday party.  A fiesta de cumpleaños!  Pinatas come in a variety of shapes and sizes, but the most common one seems to be that of a donkey.  Or, a Burro!  All in all, a much more satisfying game than pin the tail on the donkey.  Be well and do good, friends.)   —   YUR
Images courtesy of Google