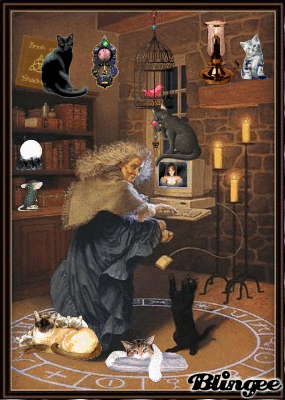 Visual Description:  Modern day witches.
NLKPA  =  PLANK,  CLXEE  =  EXCEL,  SOLTCE  =  CLOSET,  MORHEC  =  CHROME   —   Giving us:  PLKECECLSHRE
Clue/Question:  The increasingly forgetful witch used software on her computer that had a – – –
Answer:  SPELL CHECKER
(Cute!  But, kinda familiar though.  We haven't had a witchy Jumble pun since late October.
No new clue words today.  And, only "nlkpa" is coming up as a new jumble.  We've definitely seen "clxee", "soltce" and "morhec" in the past.  The answer letter layout was a terrific twelve letter jumble.  But, I think I saw this one coming a mile away.
Really cute cartoon.  I like the frog on top of the witch's monitor, and her real mouse looking mouse.  That's a heck of a recipe she has going there.  Be well and do good, friends.)   —   YUR
Images courtesy of Google and Gifer and Pinterest