Visual Description:  British nonsense.
CITYH  =  ITCHY,  RYEDB  =  DERBY,  BRALER  =  BARREL,  NCTEEI  =  ENTICE   —   Giving us:  ICHEBBRLETE
Clue/Question:  When Queen Elizabeth II knighted Anthony Hopkins in 1993, she knighted a – – –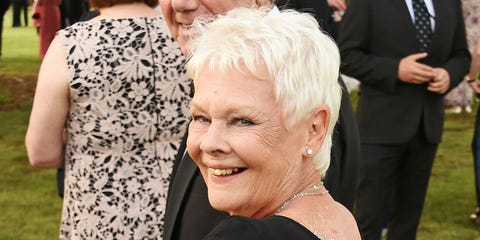 Answer:  "CELEB–BRIT–HE"
(So, I guess that would make Dame Judi Dench a "CELEB-BRIT-SHE"!  An amusing stinky pun, I suppose!  I think if ol' Betty II read this blog she would most definitely NOT be amused.  The Royals take their pomposity veddy seriously!  Cheeky one, eh?  Blimey!  Pip pip, cheerio, . . . and tally ho!  Get along now.  Bob's your uncle.
All of today's clue words are familiar old friends.  Two of the jumbles seem to be new, but we have certainly seen both "cityh" and "ryedb" before.  The answer letter layout made for an elegiac eleven letter jumble.  Don't mind me.  I just dig the alliteration of it.  It was superbly cryptic though.
Fantastic cartoon of the regal ceremony!  That looks just like the back of Sir Anthony Hopkins head!  And, a very serviceable Q.E. II too.  Be well and do good, friends.)   —   YUR
PS.  Sir Anthony Hopkins and Dame Judi Dench are superb actors.  The "British nonsense" refers only to the act of "knighting".   —   YUR
Images courtesy of Google