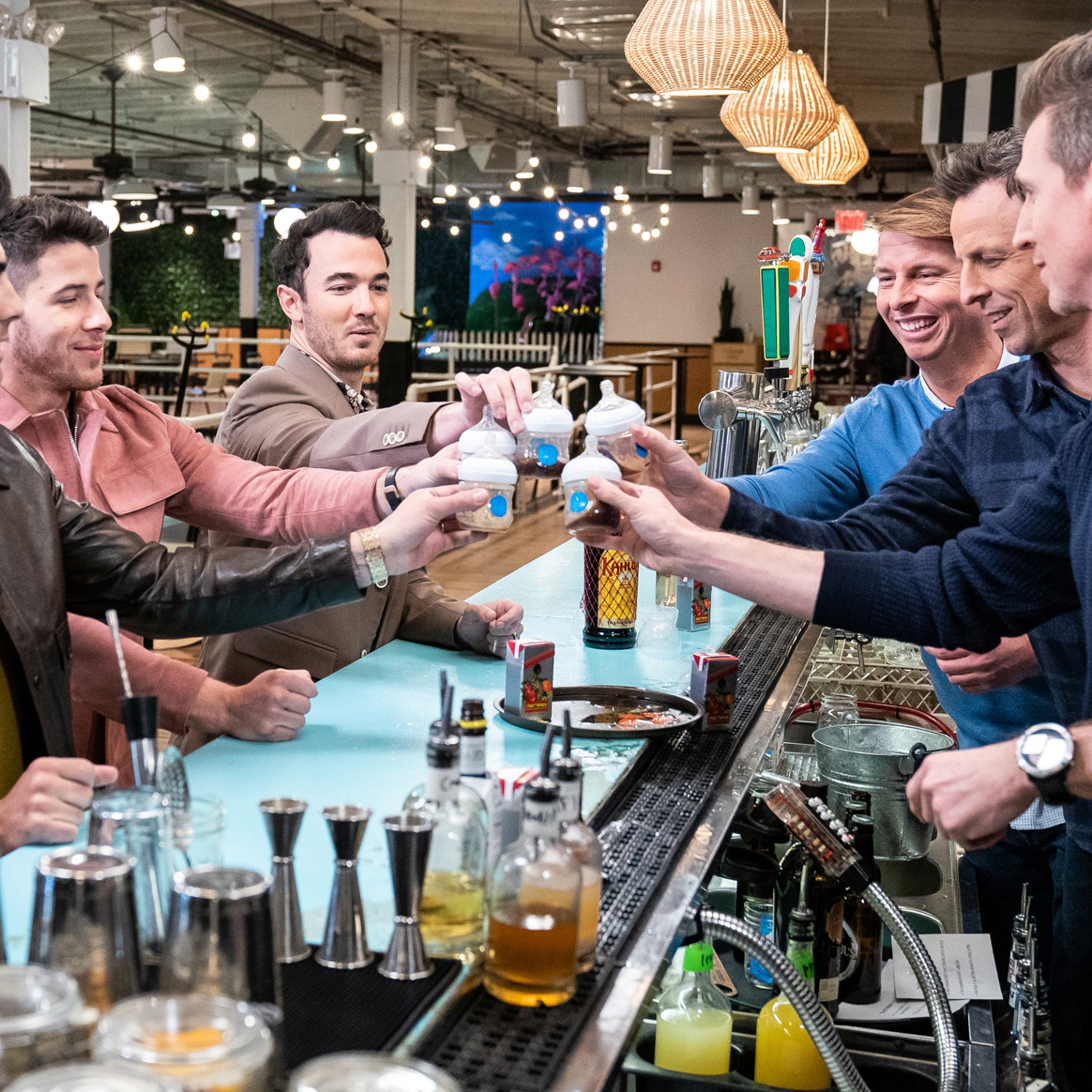 Visual Description:  David and his younger brothers?
BANCI  =  CABIN,  BTEAA  =  ABATE,  SABHUM  =  AMBUSH,  HYIHLG  =  HIGHLY   —   Giving us:  AAAAHHH
Clue/Question:  He didn't get the joke at first, but when he did, he said – – –
Answer:  AAH–HA–HA
(Aah ha!  Very funny!  As I get a little bit older, I am definitely with Hoyt.  I'm not exactly quick on the uptake.  Not like I used to be at least.  And, if it pertains to anything from popular culture . . . you can fuhgeddaboudit!  I used to be so good at entertainment trivia, but now, with so many shows coming from Netflix, Amazon Prime, Hulu, and Apple TV, I am completely at sea.  Same with popular music.  I know a lot of Indie and Alternative acts, but so many of the current performers are alien to me.  I have grown into irrelevance.
There were no new clue words today.  Three of the jumbles appear to be new, but we've definitely seen "banci" in the past.  If David L. Hoyt is still out there, he might be interested to know that he has never used the word ABASE before.  The answer letter layout was a simple seven letter jumble.  There's not much you can do with only two repeating letters.
Fun cartoon of pals at a bar.  I'm just guessing that the bald guy is David L. Hoyt, as it seems like Jeff hasn't used him in a while.  I like that David? is drinking a pint of beer!  Be well and do good, friends.)   —   YUR
PS.  It's hard to believe that 40 years ago John Lennon was shot dead outside the Dakota apartment building, where he lived with his wife Yoko and young son Sean.  And, I was just four buildings down and across the street from where it happened.  I had stopped watching the Monday Night Football game, and was on the phone with a girlfriend when it happened.  Living in Manhattan, sirens no longer phased me.  But, at around 2:30 AM I was awakened by people singing Lennon/Beatles songs down the block!  Knowing that I had work in the morning, I just shut the window and went back to sleep.  Turning on WNEW-FM in the morning enlightened me as to what had happened.  Like everyone else I was shocked.  No one expected any Beatle to die that young, and certainly not by murder.  That might have been the end of the innocence for me.)   —   YUR
Images courtesy of Google