Visual Description:  Butchering the bugle.
MEEEC  =  EMCEE,  COTTE  =  OCTET,  LCASLU  =  CALLUS,  NROOBC  =  BRONCO   —   Giving us:  MEEETLSBRO
Clue/Question:  The young musician couldn't get the high notes just right and found them – – –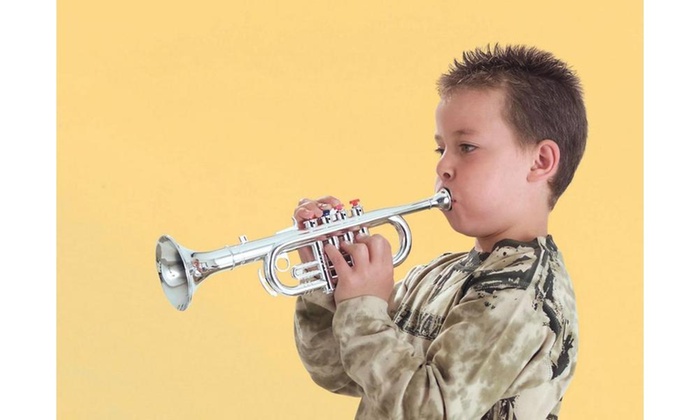 Answer:  "TREBLE–SOME"
(Wonderful pun!  Both clever and challenging.  It has a fresh ring to it.  But, then again, we could've had it last year, or even last month, and it probably would seem new to me.  I've been doing this way too long, folks!
Three trusty, legitimate clue words today.  And, we also have that bastard of a word, "emcee"!  Words like "emcee" and "deejay", and "veejay", are just the phoneticized version of initials of two words that make up a job description.  They're like the middle ground between the formal two full words, and the casual laziness of just the initials.  I'm far from being an English purist, but words like this just seem . . . unseemly, to me.  Two of the jumbles came up as new, but we've definitely seen "meeec" and "cotte" before.  I thought that "lcaslu" was a fairly challenging jumble.  The answer letter layout was a nifty ten letter jumble.  I thought it did a fine job of disguising the final answer.  I got SOME first, and from the EETLBR I was able to see the sonic play on TROUBLE.
Cute cartoon of the young bugle/trumpet/horn blower, and his very supportive parents.  It looks like the sibling is the only honest one in the picture.  LOL!  Well, every musician has to start somewhere.  Most are not prodigies.  The only way they get better is through practice.  Be well and do good, friends.)   —   YUR
Images courtesy of Google