Visual Description:  Kathy gets smoked!
LRODAL  =  DOLLAR,  LNEENF  =  FENNEL,  PAYRTS  =  PASTRY,  NNIWUD  =  UNWIND,  ISTIMF  =  MISFIT,  SCOOMS  =  COSMOS   —   Giving us:  ORNNEPTRUNIFTOO
Clue/Question:  When she aced her opponent to win the tennis match, it was the – – –
Pre-Answer:  Four Words  (5-letters) (2-letters) (2-letters) (6-letters)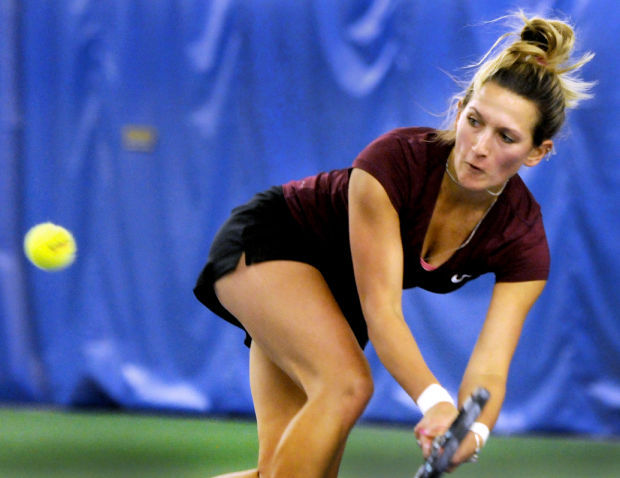 Answer:  POINT OF NO RETURN
(That's the definition of getting aced alright!  I'm glad to see Kathy taking it so well.  Well, I guess she's a big girl.  And, big girls don't cry!  Getting smoked is never fun though.  And, tomorrow is another day.
All of Sunday's clue words are familiar old friends again.  Nevertheless, five of the jumbles do appear to be new.  The only jumble we've definitely seen before is "lneenf".  I didn't have any trouble getting the clue words, even "unwind".  I'm still not crazy about UN clue words though.  The answer letter layout was a fantastic fifteen letter jumble.  Not obvious.  But, I was able to get the final answer right away.
Fine tennis court cartoon!  This looks like it was more than just a friendly match.  I don't know if Kathy plays competitively, or if this is actually Jeff's daughter, Sydney.  I usually associate her with swimming, but I guess she could play tennis too.  Fine Sunday Jumble!  Be well and do good, friends.)   —   YUR
PS.  I had to save this as a Draft yesterday, and when you open a Draft it brings up the newer format, and I can't access/add Tags.  That's where I add new jumbles!  So, there are five new jumbles that haven't been added to my tags.  Maybe I'll slip them in with Tuesday's Jumble.   —   YUR
Images courtesy of Google