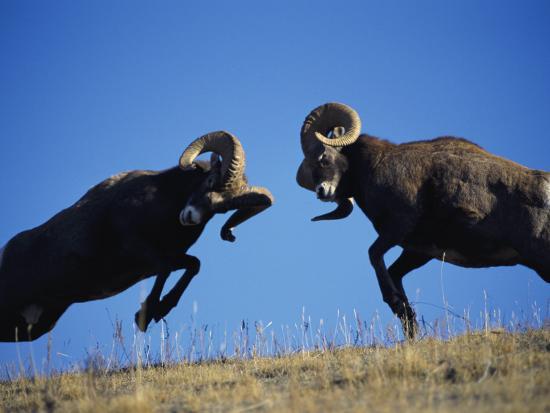 Visual Description:  Boys will be boys!
LRIGL  =  GRILL,  NRUKT  =  TRUNK,  DYBOON  =  NOBODY,  GRHITB  =  BRIGHT   —   Giving us:  GITUNNBIT
Clue/Question:  The interrupting ram was being rude.  They didn't appreciate him – – –
Answer:  BUTTING IN
(A fantastic stinky pun!  Butt, if #3 was smart, he'd just bide his time while the first two beat each other's brains in.  Then, he can swoop in and take out the weakened and woozy victor.  That's opportunity knocking!  And then, she'll only have eyes for ewe!
Familiar old clue words today.  Two of the jumbles appear to be new, while we've definitely seen "lrigl" and "nrukt" in the past.  None of them tripped me up any.  The answer letter layout was another nine letter jumble, that got the job done.
Fun nature scene cartoon.  The two rams look very serious, while the interloper looks a little dopey.  And, you can see the prize in the background, awaiting the victor.  I doubt she'd want to mate with dopey.  Boy, what a way to get a date!  Fun Monday Jumble.  Be well and do good, friends.)   —   YUR
Images courtesy of Google