Visual Description:  The thing about Ming.
SARIPN  =  SPRAIN,  BOONBH  =  HOBNOB,  WTESSI  =  WISEST,  TEAMRT  =  MATTER,  GIHLTF  =  FLIGHT,  RVEWES  =  SWERVE   —   Giving us:  SRAHOOWTTTFIHWR
Clue/Question:  He gave his non-expert opinion about the value of the antique, – – –
Pre-Answer:  Four Words  (3-letters)  (4-letters)  (2-letters) ' (1-letter)  (5-letters)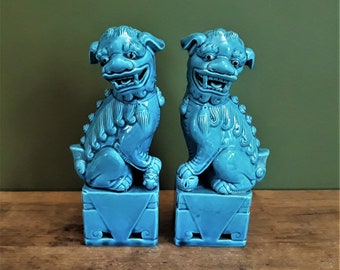 Answer:  FOR WHAT IT'S WORTH
(FWIW, it's been quite a while since we've seen a continuation answer to the Jumble.  One like this at least.  But, I was able to pick up on it rather quickly.  It's a fine pun.  I won't even call it stinky, though I know others probably will.
All familiar old friend clue words again today.  Nothing to roust ralis95 about.  Five of the jumbles appear to be new, but we've definitely seen "saripn" in the past.  The answer letter layout was a fantastic fifteen letter jumble.  Nothing obvious about it.
Admirable cartoon showing an older man and woman examining a Chinese temple dog.  They're also know as Chinese Foo Dogs, or Foo Lions.  I think they spanned a number of dynasties, and they also spread to other Asian countries.  They are fairly common, and of course there are a good number of counterfeit, and modern reproductions of them floating around.  Best to see an expert.  Be well and do good, friends.)   —   YUR
Images courtesy of Google