Visual Description:  Tennis turds.
KEYRP  =  PERKY,  NGIRW  =  WRING,  GNOREL  =  LONGER,  NTOAAS  =  SONATA   —   Giving us:  RKWINOGENT
Clue/Question:  When the tennis players talked business during their match, they were – – –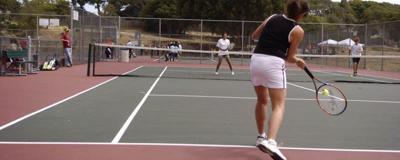 Answer:  NETWORKING
(This feels like a re-run, to me.  Did this one seem familiar to anyone else?  It's hard for me to get excited about tennis puns anyway.  I will – occasionally – watch the bigger professional matches, but I guess I'm just not the biggest tennis fan.  I have a preference for team sports.
All of this day's clue words are familiar old clue words.  Nuttin' new!  However, all of their jumbles appear to be new.  No stumpers, but at least they are new.  The answer letter layout was a fine ten letter jumble.  But, the final answer was pretty obvious.
Cartoon definitely did a fine job setting up this pun.  It was exactly what we've come to expect from Mr. Knurek.  Be well and do good, folks.   Blah, blah, blah.)   —   YUR
Image courtesy of Google