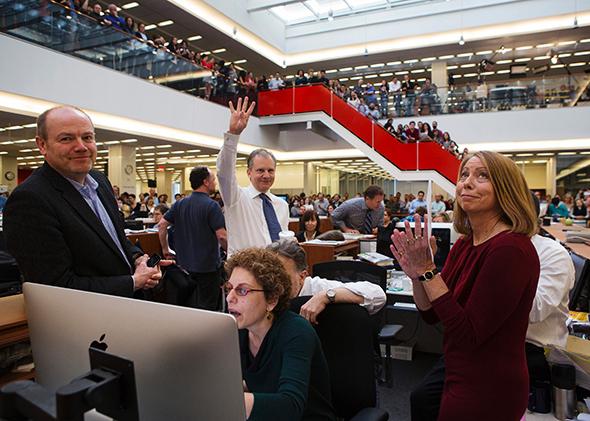 Visual Description:  Peri White never looked better!
NTEIP  =  INEPT,  DEIUG  =  GUIDE,  TEROBT  =  BETTOR,  WORDAT  =  TOWARD   —   Giving us:  INEGIETTOTWR
Clue/Question:  If the newspaper reporter was going to turn in the story in time, he'd need to – – –
Answer:  GET "WRITE" ON IT
(Hey, comic book fans!  We're twenty years into the 21st Century, so of course Perry White's granddaughter is running The Daily Planet!  Too bad newspapers are bleeding red ink though.  Maybe she'll – eventually – get picked up by some online publication.  And, Clark Kent is now a brotha!  It's possible!  Could be from the south side of Krypton.  Hey, the Green Lantern – of Earth – has changed both races and sexes over the years, so an Afro-American Superman is just as likely!
All of today's clue words are straight outta ralis95's clue word database.  Despite their all appearing to be new, none of the jumbles gave me any trouble.  Well, sure.  I am Raveman.  But, I'm sure you mere mortals were able to get them too.  The answer letter layout was a terrific twelve letter jumble.  But, I got the final answer without even looking at the cartoon and clue/question.  The answer slots and the quotation marks made it very obvious to me.
Fun cubicle cartoon.  I guess that's what newspaper newsrooms look like these days.  I gotta wonder.  Does The Daily Planet carry the Jumble, or are they snooty like The New York Times?  Be well and do good, friends.)   —   YUR
Images courtesy of Google and slate.com