Visual Description:  The King of Puzzles!
VAHYE  =  HEAVY,  ICIMM  =  MIMIC,  MLYHAN  =  HYMNAL,  DURBEG  =  BUDGET   —   Giving us:  HAIMIHYNDGT
Clue/Question:  The arrogant king who could say "Hello" in many languages was – – –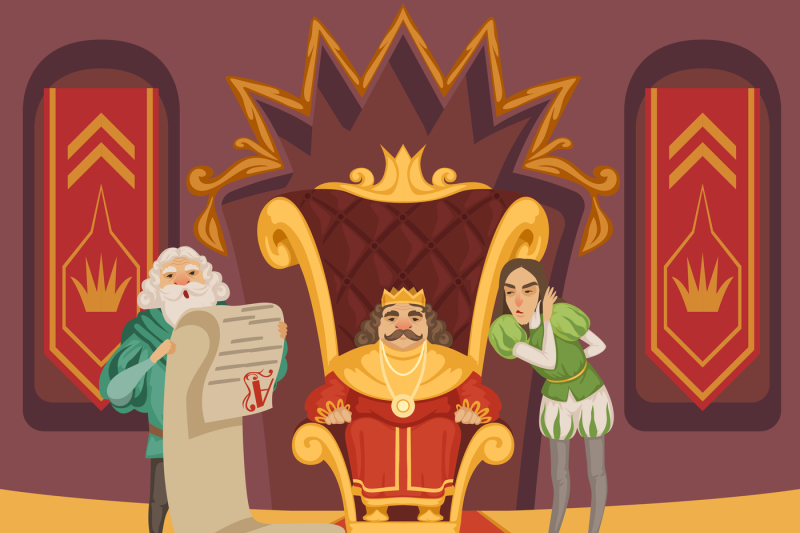 Answer:  "HI" AND MIGHTY
(Of course, the Jumble is the king of the puzzles.  And, we are all its loyal subjects!  We dutifully endeavor to solve them every day.  I guess that kind of makes me the Town Crier of Jumbledom.  Who else but your mouthy uncle?!!!  LOL!
All of today's clue words are familiar old friends.  One a little more familiar than the others.  We had "hymnal" just a few days ago!  Two of the jumbles appear to be new, but we've definitely seen "vahye" and "dutbeg" before.  The answer letter layout was an elegant eleven letter jumble.  I didn't see the answer right away, until my pea brain processed the quotation marks!
Very fine throne room scene cartoon.  Thrones are always a little elevated.  That's a big psychological edge.  Methinks the two malcontents may begin to conspire against the king.  Throw them into the dungeon!  And, confiscate all their lands . . . naturally.  Be well and do good, friends.)   —   YUR
Images courtesy of Google