Visual Description:  Jeff playing the doofus!
TUBAO  =  ABOUT,  NAPKL  =  PLANK,  CPITKE  =  PICKET,  CAUTLA  =  ACTUAL   —   Giving us:  ABNKKETACA
Clue/Question:  When she didn't like the birthday present he gave her, he was – – –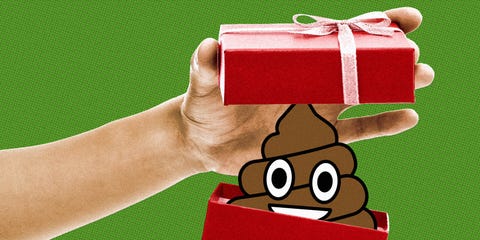 Answer:  TAKEN ABACK
(Because . . . he's a doofus!  If he really thinks that she'd want to be caught dead in a sweater like that, then he should be forced to wear a big red L on his forehead!  I mean, I know sometimes we guys don't always have the best taste . . . but that is pretty ridiculous.  LOL!
A nice calm day of no new clue words.  Two of the jumbles are coming up as new, but Hoyt has definitely given us both "tubao" and "napkl" in days gone by.  It took me a couple of looks to see actual!  Great ten letter jumble for the answer letter layout.  I didn't find it to be obvious.  The A's and the K's were the big clues for me.
Really cute cartoon of the failed festivities.  Jeff really F'd up.  Even the one pooch's jaw is dropped in disbelief.  The other one is watching in stunned silence.  But, I guess they know they'll be on the master bed tonight, while our hero sleeps on the couch!  Be well and do good, friends.)   —   YUR
Images courtesy of Google, Men's Health and Star 94.1 – Radio.com