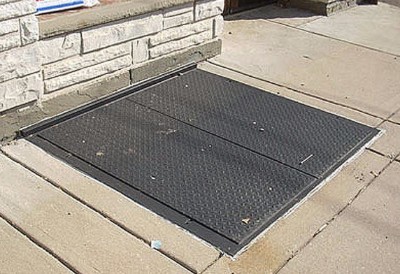 Visual Description:  Bulkhead basement doors?
ENLRI  =  LINER,  DOYDL  =  ODDLY,  MRADYE  =  DREAMY,  PXOEES  =  EXPOSE   —   Giving us:  LROLDREEOS
Clue/Question:  The antique store was located in the basement through the – – –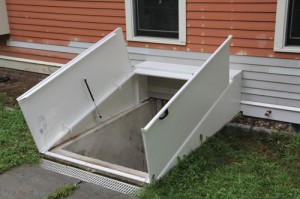 Answer:  "SELLER" DOOR
(As a suburban brat, who often visited the big city, and then lived – and worked – there for a number of years, I've never quite known the term for the street/sidewalk level doors that open to a building's basement.  I tried to Google it, but the closest I could come up with was "bulkhead basement".  The photos that accompany that term are more like the cellar doors you see in farm houses, like in "The Wizard of Oz".  There's a definite incline.  But, on city sidewalks they generally have to be flat, so pedestrians don't trip over them.  How 'bout it, you city slickers?  Can you enlighten me???
All familiar clue words today.  Two of the jumbles appear to be new, but we've definitely seen "doydl" and "pxoees" sometime before.  I didn't struggle with any of them though.  The answer letter layout was a cryptic ten letter jumble.  I figured DOOR had to be the second word, and from LRLEES I was able to see the pun on cellar.
Fun cartoon of an entrance to a basement shop.  I like the bust of David L. Hoyt!  I wonder just how collectible they are?  LOL!  Fun Monday Jumble.  Be well and do good, friends.)   —   YUR
Images courtesy of Google