Visual Description:  "Better Days"/"Glory Days".
TOMOT  =  MOTTO,  HXSIT  =  SIXTH,  BILFUA  =  FIBULA,  AARMCE  =  CAMERA   —   Giving us:  OTTSTHFIBCERA
Clue/Question:  When he said his favorite old t-shirt still fit him, it was a – – –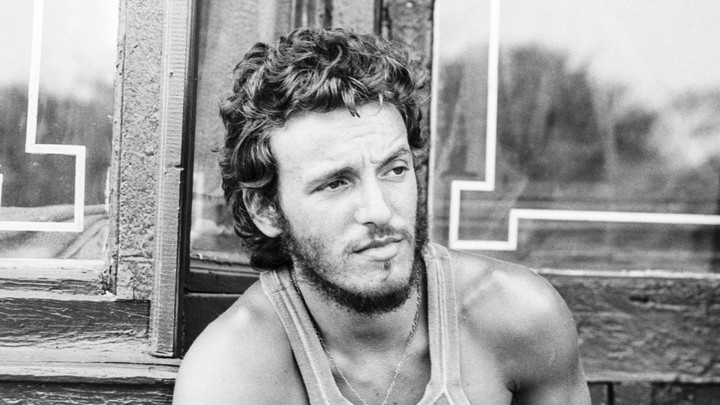 Answer:  BIT OF A STRETCH
(A better stinky pun, today!  And, it's a phrase that I frequently use.  Sometimes, I'll go with more than a bit of a stretch, when I think that something is obviously false, or a lie.  But, who amongst us hasn't stretched the truth a little, from time to time?
No new clue words today.  Maybe we've maxed out?  Three of the four jumbles came up as new though.  We've definitely seen "tomot" before.  The three vowel words almost always take at least an extra look.  "Aarmce" did for me.  But, just a second or two.  I saw "fibula" immediately, because that's the only bone I've ever broken in my life.  It happened when I fell on the ice, and sprained my ankle severely, back on 01/11/11.  A date which will live in infamy . . . for me.  The answer letter layout was a nifty thirteen letter jumble.  Again, nothing obvious about it.  The cartoon and the clue/question just set up the final answer perfectly.
It looks like that's a "Born In The U.S.A." t-shirt.  Far from my favorite Bruce Springsteen song.  I really didn't know about Bruce before "Born to Run".  But, after it came out, and to this day, I don't think you can beat his first three albums.  So much angst, grit and urgency, and they just rocked!  Be well and do good, friends.)   —   YUR
Images courtesy of Google