Visual Description:  Shaping up to be a reunion.
CDNEU  =  DUNCE,  CAKNK  =  KNACK,  OMUPID  =  PODIUM,  CAFROT  =  FACTOR   —   Giving us:  DUNNAPDUAOR
Clue/Question:  The circle had been sick for a while, but was happy to be – – –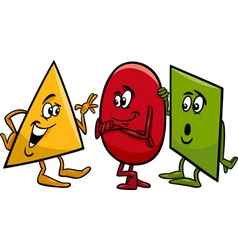 Answer:  UP AND AROUND
(I was a little surprised that Hoyt didn't go with at least a hyphen, if not that and maybe even quotation marks.  But, maybe that might have made getting the final answer all that more easier.  Kind of a standard shape pun though.
Once again, no new clue words for ralis95 to add to his world famous database.  But, two of the jumbles are coming up as new.  We've definitely seen both "caknk" and "cafrot" sometime before.  I had a decent amount of trouble solving for "podium".  The answer letter layout was a dandy eleven letter jumble.  Nothing obvious there.  The leading nature of the clue/question was the big clue for me.
Cute cartoon of some animated shapes.  It kind of looks like they're standing on graph paper.  Way to ease into the week, guys.  Be well and do good, friends.)   —   YUR
Images courtesy of Google