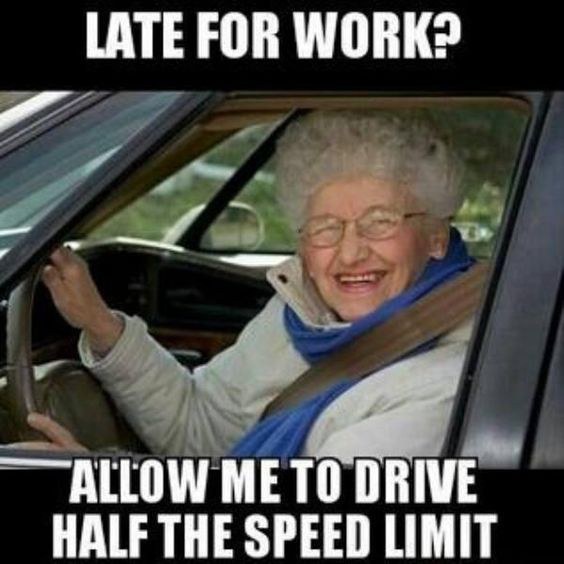 Visual Description:  Stuck behind a Granny.
GNIES  =  SINGE,  SAYID  =  DAISY,  WNTIHI  =  WITHIN,  VLARFO  =  FLAVOR   —   Giving us:  SNGDAIIINLVR
Clue/Question:  The carpenter was stuck in traffic instead of – – –
Answer:  DRIVING NAILS
(I like this pun.  It's a little different.  The guy is stuck behind a slow moving granny-type, but actually he is still driving.  Just not at the speed that he should be, in trying to get to work, where he would be driving nails.  This particular grey haired senior probably should give up her driving license, but that is always a very touchy subject.
We appear to have a brand new clue word today, in "within".  It's not on the latest version of the world famous ralis95 clue word database.  Yes, I was surprised.  Three of the jumbles came up as new, with "sayid" being the only exception.  It did take me a few looks to see "within".  The answer letter layout was a fine twelve letter jumble.  I thought it disguised the final answer very nicely.
Great cartoon of a strange one lane highway.  I liked the hammer hanging from the carpenter's belt, that is hanging from behind his seat.  I liked the fuzzy dice hanging from the sweet old lady's rear view mirror, and her wrap around sun glasses.  Another great Jumble from our friends, David L. Hoyt and Jeff Knurek!  Be well and do good, friends.)   —   YUR
Images courtesy of Google, and hotcopper.com and quickmeme.com