Visual Description:  Kathy's NOT having it!  Well, she's having the baby, of course.  But, she's NOT having any of Jeff's "encouragement"!
BLERE  =  REBEL,  NYILV  =  VINYL,  TODIUS  =  STUDIO,  OGLNOA  =  LAGOON   —   Giving us:  REBEVINSTILAON
Clue/Question:  Having a baby can be a lot of work because it's – – –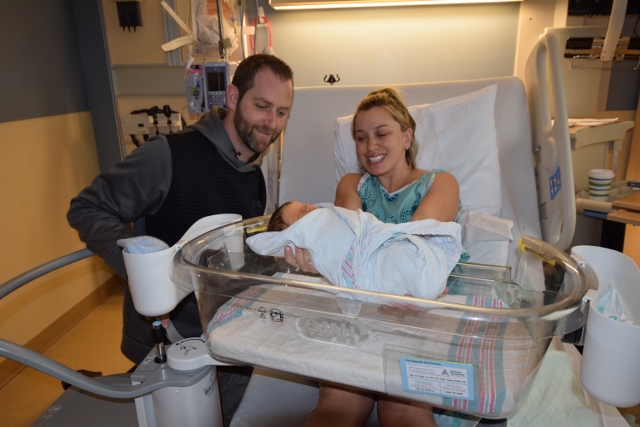 Answer:  LABOR INTENSIVE
(Can be???  You mean sometimes it's nothing but a thang?!!  I think all mamas who read this might take issue with that wording!  Send all your complaints to David L. Hoyt and Jeff Knurek, c/o Tribune Content Agency . . . somewhere in Chicago, IL. 60607.  Nah!  Forget that.  If you want to register outrage these days you can't do it by snail-mail, you've got to do it via the cyber-webs.  Make it go bacterial, or some dern thing.
Hey, guess what, kids?  No new clue words today.  Ralis95 can rest easy.  However, all of today's jumbles are coming up as new.  I had a brain fart on "vinyl"  and tried to spell it VYNIL!  Must be all the Nyquil I've been taking . . . or something.  Nice, big, fourteen letter jumble for the answer letter layout.  It did a great job of disguising the final answer.  I was almost going to break it down to vowels and consonants, but the answer just kind of hit me.  Like it usually does.
Great cartoon of the obstetrics unit, and Jeff and Kathy.  Going back a bit.  Would he have been videoing the procedure from his cell phone back in those days?  Did cell phones do that in 2003?  Hmm.  Be well and do good, friends.)   —   YUR
Images courtesy of Google