Visual Description:  The Lockhorns!
ANIPO  =  PIANO,  LIRTL  =  TRILL,  NECCTA  =  ACCENT,  NOTLAA  =  ATONAL   —   Giving us:  POILLCCEAL
Clue/Question:  "Loretta's voice has an arresting quality to it.  It makes you want to . . . "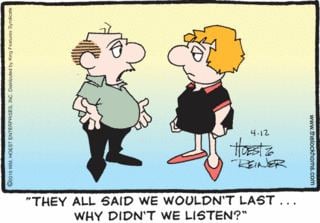 Answer:  CALL THE POLICE
(I have always been a huge Lockhorns fan!  They are my favorite dysfunctional married couple comic.  They kind of play up the stereotypical tendencies of both men and women, but in an hysterical/satirical way.  I wish my paper carried them.  Leroy also reminds me of a guy that I used to work with.  But, that's another story.
Apparently, we've never seen "atonal" as a clue word before.  It is not on the ralis95 world famous clue word database.  After today it should be.  Three of the jumbles came up as new, with "lirtl" having definitely been used before.  The answer letter layout was a dandy ten letter jumble.  Not obvious.
I love how this cartoon has Leroy confiding/complaining to a male friend about Loretta's voice.  Other Lockhorn cartoons have Loreretta complaining to a girlfriend about Leroy's drinking, wandering eyes, golfing or general laziness.  But, very often they are head to head barbs.  I wonder if the New York Daily News still carries the Lockhorns?  Be well and do good, friends.)   —   YUR
Images courtesy of Google