Visual Description:  Selling horsepower.
SROCS  =  CROSS,  CNPHI  =  PINCH,  NNSEKU  =  SUNKEN,  TEPRYO  =  POETRY   —   Giving us:  CROPNUNKOETY
Clue/Question:  After selling almost all of his pickups, the horse was a – – –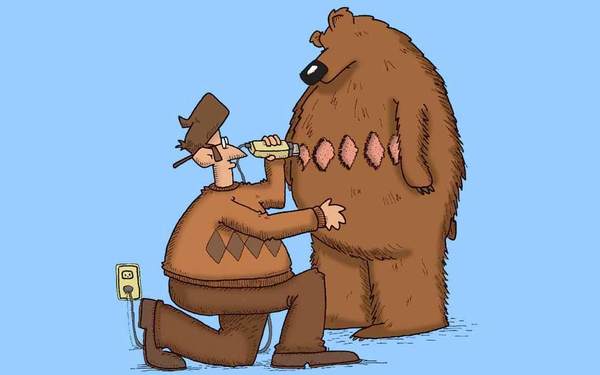 Answer:  ONE "TRUCK" PONY
(I love this pun!  I've always liked the expression:  One trick pony, so this made for a great Jumble for me.  I always like when a cartoon gives animals human traits, and this one has them speaking, wearing clothes, and selling automobiles!  Beautiful.
All of today's clue words are familiar old friends.  Two of the jumbles appear to be new, while we've definitely seen both "srocs" and "cnphi" sometime in the past.  The answer letter layout was a beautiful twelve letter jumble.  It disguised the final answer very well.  I quickly figured the three letter word was ONE.  Then, the quotation marks led me to TRUCK and the pun.  Very clever.
Again, I'm not familiar with Scott Hilburn's "The Argyle Sweater", but right away I like it.  He seems to have the Gary Larson style of humor.  I was always a huge fan of "The Far Side".  Be well and do good, friends.)   —   YUR
Images courtesy of Google