Visual Description:  Arriving at Keflavik International Airport.
YORFE  =  FOYER,  DEBIA  =  ABIDE,  GITAMS  =  STIGMA,  FISYHT  =  SHIFTY   —   Giving us:  OYRAIDSTASHT
Clue/Question:  Can most people correctly pronounce the name of Iceland's capital?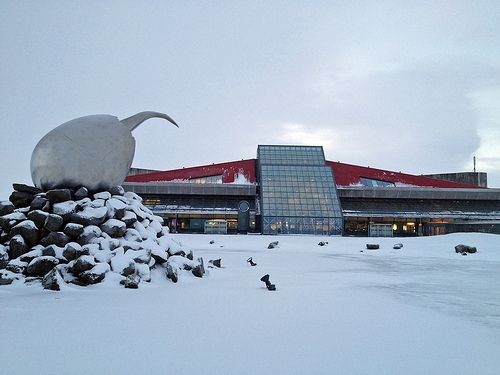 Answer:  IT'S HARD TO SAY
(Especially for Americans, who can barely speak just English!  By and large, we're an arrogant, lazy lot.  We kinda figure that everyone else should just learn English . . . dag nab it!  I've seen/heard a few different pronunciations of Reykjavik.  Sometimes it is with a silent J.  Sometimes the J is kind of pronounced like a EA, or a Y.  And, sometimes the Icelanders pronounce the K more like a G.  And, some claim that you're supposed to roll the R a bit!  So, it can be a little funky to pronounce.
No new clue words today.  Two of the jumbles appear to be new, but we've definitely seen both "debia" and "gitams" in the past.  I promise not to preach the proper pronunciation of "foyer" this time.  Some folk got a little uppity last time.  The answer letter layout was a fine twelve letter jumble.  Nothing obvious about it. 
Fine cartoon of the Icelandic airport.  I like the plane at the ramp, and the plane taking off.  Also, the folks with wheeling their carry-ons, and the Arrival/Departure board in the background.  Lots of fun.  Be well and do good, friends.)   —   YUR
Images courtesy of Google