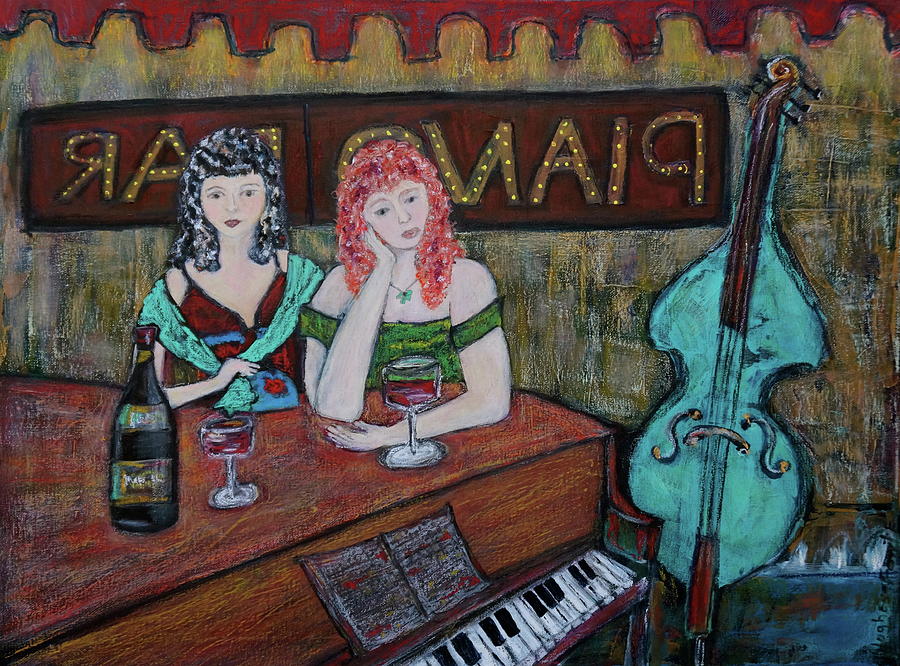 Visual Description:  Sort of a Kitty Carlisle type.
DUEFG  =  FUDGE,  KTLEN  =  KNELT,  RHOYTW  =  WORTHY,  KORMES  =  SMOKER   —   Giving us:  EKLWYO
Clue/Question:  To hide the soreness in her right hand, the pianist played it – – –
Answer:  LOW–KEY
(Kind of a low-key Monday Jumble.  This looks like a piano bar.  Not only that but a piano wine bar.  Ladies only?  Some guys are intimidated by places like this.  They think that you'll have to join in singing show tunes, or something.  That wouldn't bother me, at all.  I can carry a tune . . . if someone lends me a bucket.
No new clue words today.  We've seen 'em all before.  Two of the jumbles came up as new, but we've definitely seen both "ktlen" and "kormes" before.  The answer letter layout was a good six letter jumble.  Not obvious.
Great cartoon of a piano bar.  I guess they serve more than wine, as I see a martini too.  I didn't realize that Jumble made pianos!  I thought that the tip jar was a nice touch.  Very nice.  Be well and do good, friends.)   —   YUR
Images courtesy of Google