Visual Description:  The mad farmer of the chicken coop!
ORMGO  =  GROOM,  TARGN  =  GRANT,  VNLEEE  =  ELEVEN,  HRERCY  =  CHERRY   —   Giving us:  GOMGTENHE
Clue/Question:  The farmer talked to the hens and liked to – – –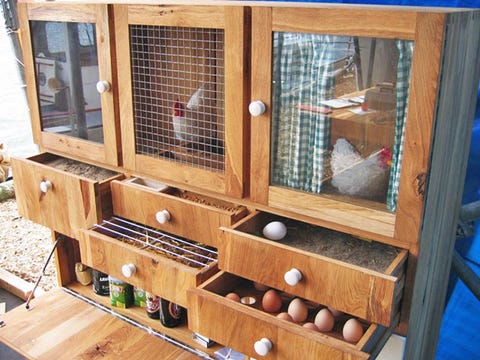 Answer:  EGG THEM ON
(A fine, stinky – is that sulfur I smell – pun!  Methinks something is rotten in the state of . . . Iowa!  Yes, they are the leading egg producing state . . . in the states.  At least by number of laying hens.  Maybe this farmer is a motivational clucker in Indiana.  They're #2, so maybe he's able to get his fewer hens to outproduce Iowa?  But, the yolk is on him!  I hear these hens just voted to unionize!  And, they just went on strike.
All four clue words are familiar old friends.  Have you noticed that Hoyt frequently goes one-two with words that start with the same letter?  Obviously, it's not every day, but it does happen very often.  All four of the jumbles – or are they scrambles today – appear to be new.  No stumpers for me today.  The answer letter layout was a fine nine letter jumble.  It was more than cryptic enough.  But, was it egg-cellent?
The cartoon is very amusing.  Some of the hens have that Oh, my! look.  And, some look very indignant.  One of the girls might even be flipping the farmer the wing!  I bet hens don't respond well to dares.  Maybe, one of the hens could be like Seinfeld's "Soup Nazi":  No eggs for you!  Be well and do good, friends.)   —   YUR
Images courtesy of Google