Visual Description:  Slickster Jeff, setting up to fleece David out of some coin.
OHRNO  =  HONOR,  INYUT  =  UNITY,  DRIMEA  =  ADMIRE,  CUCEAR  =  ACCRUE   —   Giving us:  HNUIDMICE
Clue/Question: It was his turn at the pool table now that the previous player had – – –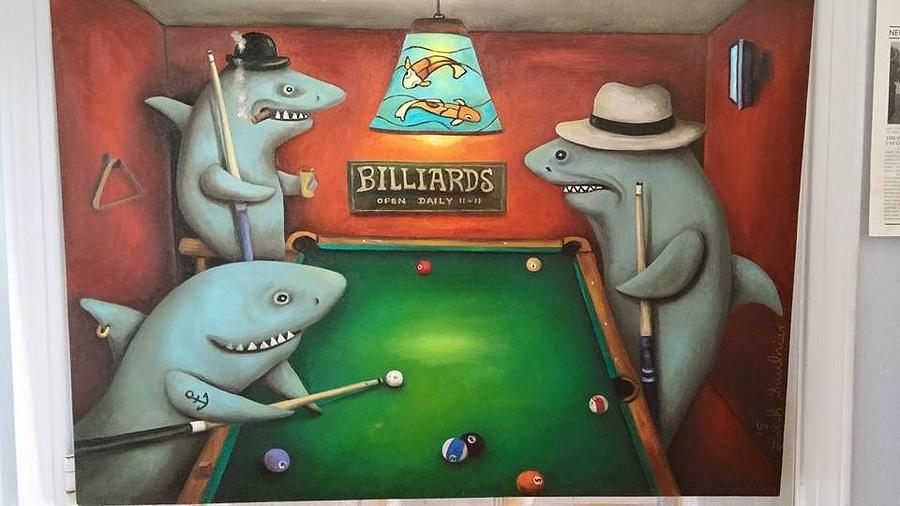 Answer:  CUED HIM IN
(Gotta love this stinky pun!  It's a classic stinker for, a hot and sweaty Friday!  Nice little play on:  CLUE HIM IN.  But, you all – not y'all – figured that out by now, all on yer own!  I'm really getting tired of hearing people trying to sound country, and/or southern.  Not everybody from the South says it all the time, and it just sounds so forced from some of these clowns.  ENOUGH . . . y'all!
Four long time members of the ralis95 clue word database today.  But, all four of the jumbles are coming up as new.  Both "drimea" and "cucear" made me think.  But, they both just took a couple looks.  The answer letter layout was a nifty nine letter jumble.  It did a fine job of hiding the final answer.  Nice work, David L. Hoyt!
Great pool room scene cartoon.  Have you ever noticed how Jeff almost always makes himself look smooth and hip, but he usually makes David look more on the nerdy side?!  What up wit dat, bro???  If you don't watch yourself David is going to lay a major head-butt on yer noggin!  That'll be lights out for you!  LOL!  Be well and do good, friends.)   —   YUR
Images courtesy of Google