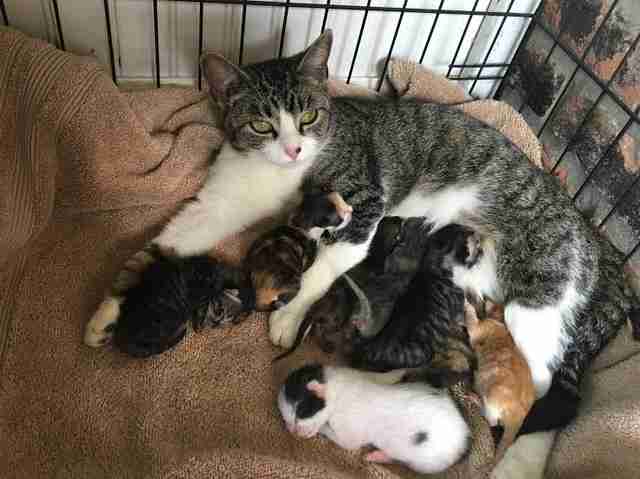 Visual Description:  The cute kind of kitty litter.
CANKK  =  KNACK,  TIHDC  =  DITCH,  PLUCEO  =  COUPLE,  BOLTEG  =  GOBLET   —   Giving us:  KNADITCOLEOBET
Clue/Question:  The cat gave birth to a huge litter, and she loved the whole – – –
Answer:  "KITTEN" CABOODLE
(Of course she did!  Most mammals, humans included, have strong motherly instincts.  Nurturing and protecting their young is kind of hardwired.  And for many, those instincts/feelings continue long after their young have matured.  We love our kids . . . no matter what!
All of today's clue words are familiar old friends.  Two of the jumbles are coming up as new, while both "cankk" and "pluceo" have definitely been used before.  The answer letter layout was an impressive fourteen letter jumble.  It was beautifully cryptic.  If it wasn't for the quotation marks this might have been a more difficult solve.  Even with them, some may have struggled to get the answer.
Cute cartoon of the mama cat and her five little kittens.  Five kittens is not that large a litter.  It's pretty much average.  Eight kittens would be more of a "huge" litter.  I love cats!  It's the litter box that I don't care for.  Be well and do good, friends.)   —   YUR
Images courtesy of Google