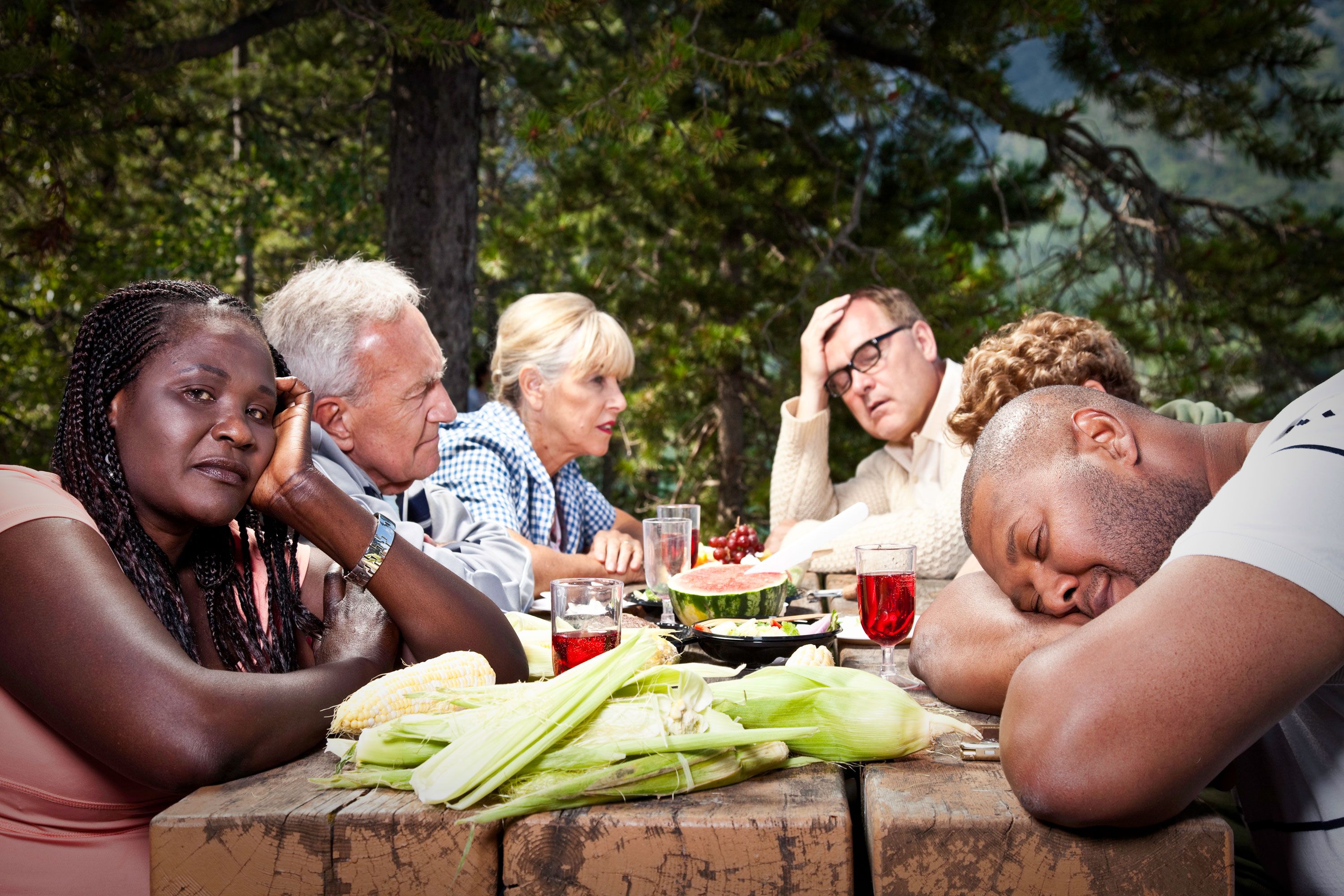 Visual Description:  Not exactly going as planned.
WLOFN  =  FLOWN,  SOMEO  =  MOOSE,  SPOINH  =  SIPHON,  TRUBLE  =  BUTLER   —   Giving us:  FLOMOSSPHOBTER
Clue/Question:  Her dinner party was suffering from a – – –
Answer:  HOST OF PROBLEMS
(Or, maybe she didn't plan very well?  She didn't know one of her guests couldn't have peanut oil, she forgot to see if they had any Sterno, and she left the meat out where the dog could get at it!  I don't know what the one husband's problem might be, but It doesn't seem like it could be something that he ate!  And, there are six place settings, so who might be missing?  Is someone else in the bathroom with the husband???  Isn't the Jumble supposed to be family friendly???  Okay, okay.  Get your minds out of the gutter, people!  Let's not try to read too much into this.
There were no new clue words today, so ralis95 can rest easy.  Three of the jumbles appear to be new, with "someo" having definitely been used before.  I saw "siphon" right away, but had trouble with "truble".  Hey!  Isn't that an episode of the original "Star Trek" series?  The answer letter layout was a challenging fourteen letter jumble!  Immediately, I went with LOSS OF . . .  Hmm.  BROTHEMP?  THOMBERP?  I rechecked the clue words to see if I had made a mistake, but no.  I rewrote the answer letter layout, and spotted my "problems".  But that left me with FOSHOT.  I knew OF was still good, but SHOT . . . got to me.  I thought it could be a SHOT OF PROBLEMS,  but . . . Then HER hit me over the head with the fondue pot, and SHOT became HOST.  Saturday Jumbles usually don't give me such a hard time!
Fine dining room cartoon.  I like how Jeff made sure to have those long fondue forks on the table.  I remember fondue back in the '70s!  It was fun, for a while.  Did it make a comeback, or something?  I'm not exactly up on the latest trends.  Be well and do goof, friends.)   —   YUR
Images courtesy of Google