Visual Description:  Miss Violet Beauregarde, from Montana, I presume.
SUHEO  =  HOUSE,  SCURH  =  CRUSH,  DENTON  =  TENDON,  DOWENO  =  WOODEN   —   Giving us:  HUECRHTEOWDE
Clue/Question:  The teacher caught the girl with bubble gum in class and – – –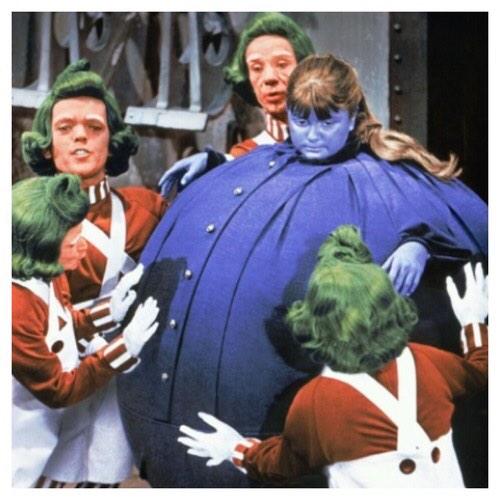 Answer:  CHEWED HER OUT
(A subtle send-up to "Willy Wonka & the Chocolate Factory"!  Even though the movie came out twenty years before she was born, this is my daughter's favorite movie.  At least from her childhood.  She can recite a number of lines from the movie.  I believe we still have a copy of it, probably on VHS!  Fortunately, we still have a working VHS player, too.
I wood've sworn that all of today's clue words were old favorites.  But, "wooden" was nowhere to be found on the ralis95 clue word database!  Maybe, our friend David can check his list to tell us if it just slipped through the cracks somehow.  After today, I'm sure it will be added to the world famous ralis95 clue word database!  We've definitely seen the jumbles "suheo" and "scurh" sometime before.  But the other two came up as new.  The answer letter layout was a crackling twelve letter jumble.  Definitely not obvious, but the answer itself took little rumination.
Great elementary school classroom scene cartoon.  It looks like teach is going to make Violet spit it out.  I hope she already chewed the flavor out of it.  It's a shame to waste good gum!  Be well and do good, friends.)   —   YUR
Images courtesy of Google