Visual Description:  The smartest, most entertaining "magic act".
MIGER  =  GRIME,  CAHWK  =  WHACK,  CCDIAA  =  CICADA,  MTROPP  =  PROMPT   —   Giving us:  GRIEWHKCIAROMT
Clue/Question:  When Penn & Teller stepped onto the stage, they were ready to – – –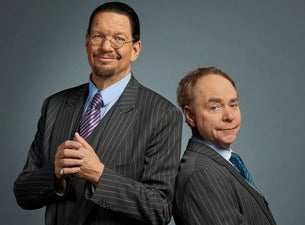 Answer:  WORK THEIR MAGIC
(Outstanding pun!  Of course some pun-haters are groaning, but you know they're going to groan, no matter what.  So, the heck with them.  The groan inducing pun is the Jumble payoff.  It's what we Jumble devotees live for.  N'est pas?
We seem to have another in-betweener today, in "whack".  It is not part of the ralis95 clue word database of 02/23/19, so we either saw it since that time, or it came up on some Sunday, before I came up with my code for notifying the master!  Both "cahwk" and "miger" are coming up as jumbles that have definitely been used before.  The other two appear to be new.  The answer letter layout made for another impressive fourteen letter jumble.  It gave nothing away.  And, it took me a few looks to figure out the answer.  MAGIC being the key word, naturally.
Jeff's depiction of both Penn and Teller was spot on!  Not to mention a pretty passable Jeff, and Kathy Kent-Knurek!  I'm not really the biggest fan of magic acts, but Penn & Teller are just in a class all their own.  It's so much more than a "magic" act.  It's a more intelligent, well-rounded entertaining show.  They are one of Las Vegas' All-Time great acts.  Be well and do good, friends.)   —   YUR
Images courtesy of Google