Visual Description:  Trophy hunter abetter?
SYIFH  =  FISHY,  ULFFF  =  FLUFF,  RAUTEM  =  MATURE,  PMCIAS  =  SCAMPI   —   Giving us:  ISHFFFTUESCA
Clue/Question:  The taxidermist took a lunch break so he could – – –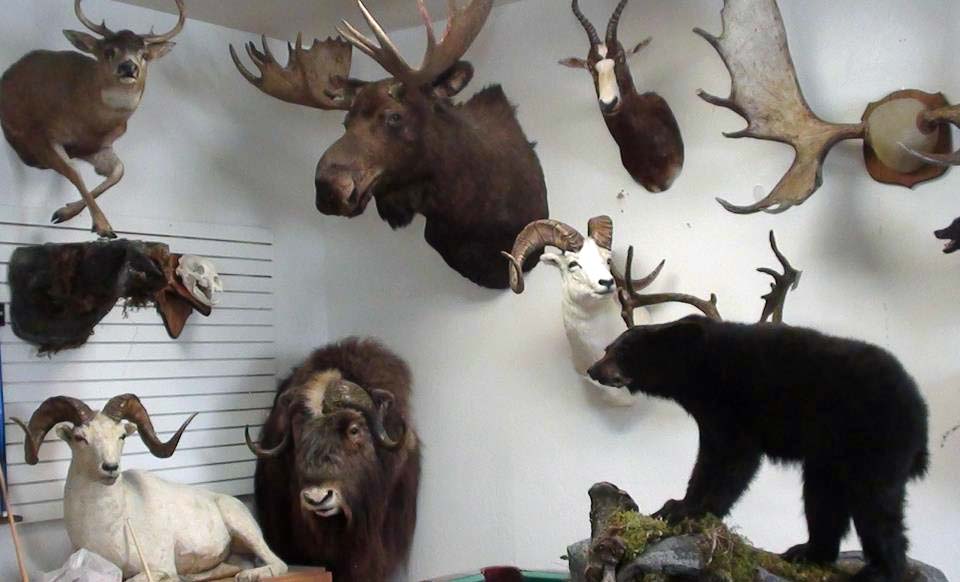 Answer:  STUFF HIS FACE
(A fitting stinky pun!  A well known idiom, but I don't know when it was first used.  I don't remember it being used when I was a kid.  Maybe, sometime in my teen years? I guess it wouldn't have been considered "polite talk" back before then.  At least not in my household.  But, it is descriptive.
We actually have a new clue word today, in "scampi".  I guess ralis95 will have to add this to his world famous clue word database.  I had to back into it, because I always just considered it an Italian style of cooking shrimp.  I never realized how redundant "shrimp scampi" is.  Scampi are essentially a type of shrimp, or prawns.  A little annoying, in that sense.  But, I pays it no nevermind.  I won't eat no bottom feeders.  "Fluff" isn't new, but I noticed that FLUFFY is not in the database.  Are you gittin' this, Hoyt? All of the jumbles are coming up as new.  The answer letter layout is a cryptic twelve letter jumble.  Just knowing the answer was three words, and the length of the words, helped me to get the final answer.  Even without "scampi".
And of course, the cartoon did a great job of showing the guy stuffing his face!  I liked all the finished products, both on the wall and on the table/work bench.  I guess you'd almost have to call taxidermy an art-form.  But, the job is a little too gruesome, for my tastes.  I guess I'd rather watch animals in a zoo.  Or, better yet, in the wild.  Be well and do good, friends.)   —   YUR
Images courtesy of Google