Visual Description:  The third degree.
VUMEA  =  MAUVE,  PLEOE  =  ELOPE,  GOACCN  =  COGNAC,  PLOJYA  =  JALOPY   —   Giving us:  MEEOCNCAL
Clue/Question:  The FBI agents wanted the money launderer to – – –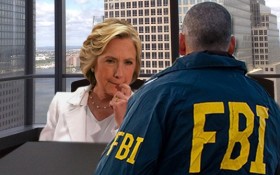 Answer:  COME CLEAN
(But, he won't.  Because, he's a filthy stinkin' criminal.  This pun smells better than he does.  Enter the crooked, shyster lawyer.
All of today's clue words are currently residing in the ralis95 clue word database.  Three of their jumbles appear to be new, with only "vumea" having definitely been used before.  It took me a second, or two, to see both "elope" and "cognac".  And, I've always loved the word "jalopy".  The answer letter layout was a fine nine letter jumble.  If you're not a fan of police procedurals I guess you could have struggled to get the final answer.
Great cartoon of an interrogation room scene.  Looks like the guy has decided to clam up.  Clearly, he's waiting on his mouthpiece.  Fun Jumble.  Of course the lower photo is a mock-up.  Be well and do good, friends.)   —   YUR
Images courtesy of Google