Visual Description:  Titanic Sinking Day?!
DXUEE  =  EXUDE,  KNEAT  =  TAKEN,  GWIJAS  =  JIGSAW,  NSDALI  =  ISLAND   —   Giving us:  XTNGIA
Clue/Question:  Filling in all the information on the Internal Revenue Service forms was – – –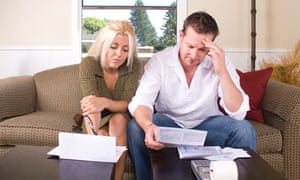 Answer:  TAXING
(Quite!  A very date appropriate stinky pun.  No one likes doing them, with the exception of CPAs, but they have to be done.  And, we all gotta pay if we expect to live in a country with public roads, public schools, police and fire departments, health research and food safety, national parks, energy and environmental initiatives, Medicare and Veterans benefits, and of course a strong military.  Just how much should go to what, and who should bear the brunt of the tax burden, are always bones of contention.  We like to think we have a say in the matter, but for the most part we're at the mercy of special interests.
There are no new clue words today.  However, three of the jumbles appear to be new, with only "kneat" having definitely been used before.  They were all fine jumbles.  The answer letter layout was another fine six letter jumble.  All the verbal and visual clues made solving this facile . . . the opposite of taxing.
Super cartoon!  It looks like Jeff and Kathy are doing it old school, with a printing calculator, and the actual paper IRS – and state – forms.  The stacks of receipts and the little bottle of white out are a nice touch.  And, both of them look so bedraggled and haggard.  C'mon, Jeff!  Spend the $50 and switch to e-filing!  LOL!  But of course, that would make for a much less dramatic cartoon.  Be well and do good, friends.)   —   YUR
PS.  It's also Jackie Robinson Day!  So, enjoy a few innings of a ballgame!   —   YUR
Images courtesy of Google