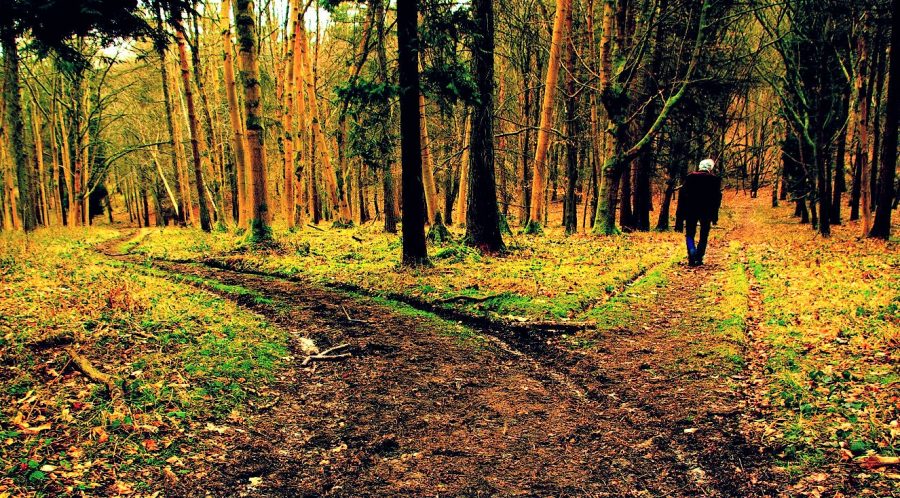 Visual Description:  The walk ironic?
MOBIL  =  LIMBO,  FNTEO  =  OFTEN,  ONIEID  =  IODINE,  PROTYH  =  TROPHY   —   Giving us:  IMOOTNIONETRPY
Clue/Question:  While strolling with a friend, Robert Frost recited his new composition.  It was – – –
Answer:  POETRY IN MOTION
("She turned her tender eyes to me.  As deep as any ocean.  As sweet as any harmony…"  NAME THAT TUNE!!!  Sorry, folks.  Those lyrics have only a fairly remote connection to today's Jumble.  Sigh.  Is it a poem of contentment, or one of regret?  We all have had to make – and live with our – choices in life.  And, we all have dozens – or maybe hundreds – of what ifs that we frequently ponder.  Dwelling on them doesn't do a whole lot of good.  You just live with the choices you've made.  And perhaps, someday down the road, you might get the chance to make a choice similar to the one that you didn't make back then.  That's a little sumpin' we like to call hope.
None of today's clue words took the path less traveled by.  They are all members of the world famous ralis95 clue word database.  Three of the four jumbles are also not new, with "onieid" being the only one we've most likely not seen before.  The answer letter layout was an impressive fourteen letter jumble.  I kind of saw the answer right away though.  I think it was all in the clue/question.  Hmm!  What would a poet's composition be called???  And, strolling is an example of . . . ?  LOL!
Wonderful woodsy cartoon of Robert Frost, and perhaps his good friend Edward Thomas.  If you look real close, at the top of the cartoon, there's a little deer about to cross the left path.  I'm wondering if David came up with this pun on his own, or if it was suggested to him by a Jumble fan.  Be well and do good, friends.)   —   YUR
Images courtesy of Google