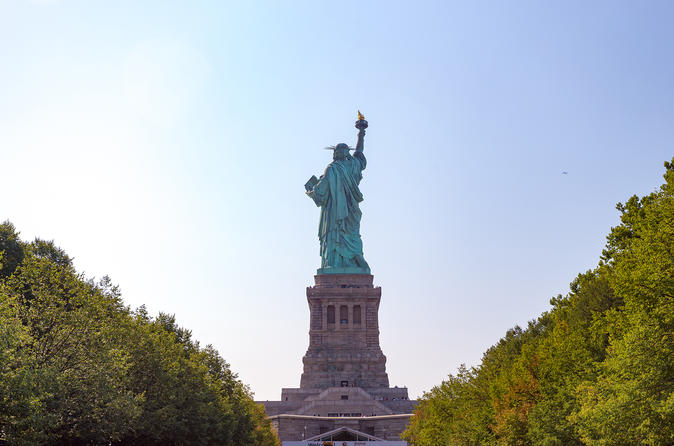 Visual Description:  She may be facing New York Harbor, but Yo . . . Jersey's got her back!
BIRON  =  ROBIN,  SULYO  =  LOUSY,  NETTAN  =  TENANT,  SARYAT  =  ASTRAY   —   Giving us:  RBILOSYTEATTAY
Clue/Question:  How many guards protect the New York Harbor statue?  They're not – – –
Answer:  AT LIBERTY TO SAY
(The entire state of New Jersey is groaning, over this stinky pun!  All the way from up in High Point State Park, down to Cape May.  But, probably no more so than in Liberty State Park, in Jersey City.  You can catch the tour boats to Ellis Island, and Liberty Island, from there.  You don't have to go into Manhattan, if you don't want to.  You'll save on bridge/tunnel tolls, and the parking is always plentiful.  And, if you have the time, you can take in the Liberty Science Center.  It's a wonderful museum.
There were no new clue words, however three of the jumbles appear to be new today.  We've definitely seen "sulyo" before.  None stumped me today.  Although, I did think I saw attend, before I saw "tenant".  The answer letter layout was an impressive fourteen letters long.  It was a fine jumble, that made you think a bit.
A fine rendition of the promenade, that leads from the docks, to the statue.  Lady Liberty is a sight to see!  I've taken numerous family and friends there over the years.  Not as tourist friendly as before 9/11, but that's how the powers that be have mandated it.  The name of their game is "security".  As if we could forget!  "We will bankrupt ourselves in the vain search for absolute security."   —   Dwight D. Eisenhower.  Be well and do good, friends.)   —   YUR
Images courtesy of Google