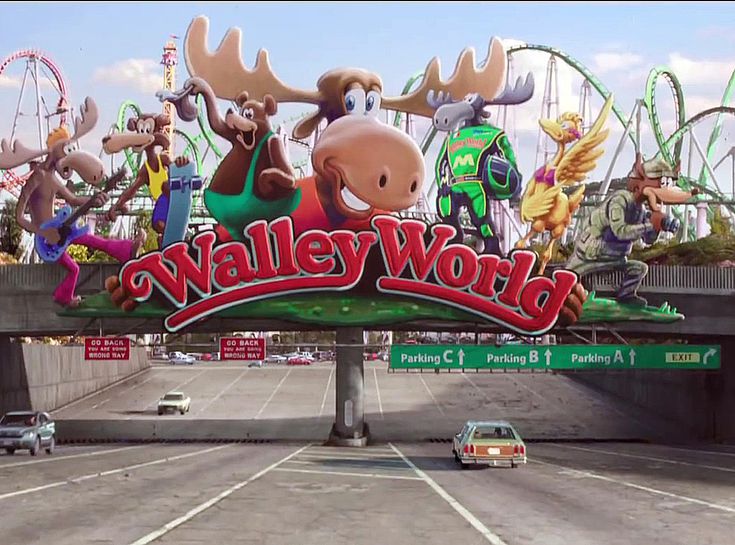 Visual Description:  Tribute to Walley World!
HNARC  =  RANCH,  DARTY  =  TARDY,  UQEAPO  =  OPAQUE,  OVENKI  =  INVOKE   —   Giving us:  RNCTDAENE
Clue/Question:  When the little boy arrived at the gates of the amusement park, he was – – –
Answer:  ENTRANCED
(Marvelous stinky pun!  I loved it.  All of the clue words are already on the world famous ralis95 clue word database!  Yet, all of the jumbles appear to be new.  I thought both "darty" and "ovenki" were a bit challenging.  I saw "opaque" instantly.
The answer letter layout was a super jumble.  Not obvious in the least.  I bet some of you struggled to see the answer.
The cartoon is great.  Most little kids love amusement parks.  I liked his wide-eyed look, and mouth agape.  I also like how this worked out to be an unintentional tribute to Daniel Joseph "Rusty" Staub.  He spent time with five different teams, spanning a 23 year career.  But, he spent nine years in two stints with the Mets!  He had 500 hits with four different teams.  No other player has done that in the major leagues.  He also hit his first home run before his 20th birthday, and his last homer after his 40th birthday.  Only Ty Cobb, A-Rod and Gary Sheffield have also done that.  The Montreal Expos retired his number, and he's in the Mets Hall of Fame.  He was beloved wherever he played, but Mets fans will always consider him one of theirs!  A little ironic that he died on opening day.  He was smiling down on my boys though, as they defeated the Cardinals this afternoon, 9 – 4.  Many baseball fans will always remember "Le Grand Orange".  Rest in peace, Rusty.  Love you, man.  Be well and do good, friends.)   —   YUR
Images courtesy of Google