Visual Description:  Jeff's opinion of jigsaw puzzles.
WETSE  =  SWEET,  VEOMI  =  MOVIE,  SPLUCT  =  SCULPT,  PRAROL  =  PARLOR   —   Giving us:  SEEMIESCTPAR
Clue/Question:  The jigsaw puzzles of the Mona Lisa, David and Venus de Milo were – – –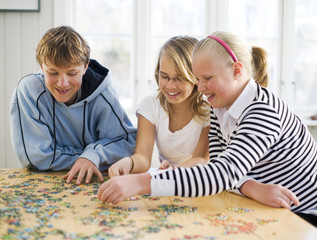 Answer:  MASTERPIECES
(Now, that is a clever pun!  I really like it.  We stand at day 12, and still no new clue words!  Just sayin', David!  But, all of the jumbles do appear to be new.  I didn't find any of them very tough, but at least they seem to be new.  The answer letter layout was the best of the jumbles.  By itself, it was very nicely cryptic.  But, with the clue/question, the great cartoon, and it's dialog, the answer was fairly obvious.  Despite being 12 letters long.  I don't think Jeff thinks all that highly of jigsaw puzzles.  The ladies look kind of spinsterish.  At the very least grandmotherly.  And the guy looks like a slow witted slackard.  I just write it off as artistic license though.  I actually enjoy jigsaw puzzles.  They do take a lot of patience though.  Be well and do good, friends.)   —   YUR
PS.  I realize that yesterday's rant was probably a little too scattershot.  I could've – and probably should've – explained some of my gripes in a little more detail, but I type with two fingers, and it does take me longer than most to get these posts out.  One of our regular readers did reply, in detail, and I plan to address her issues in detail.  So, if you felt as she did, feel free to read my upcoming comment!   —   YUR
Images courtesy of Google.