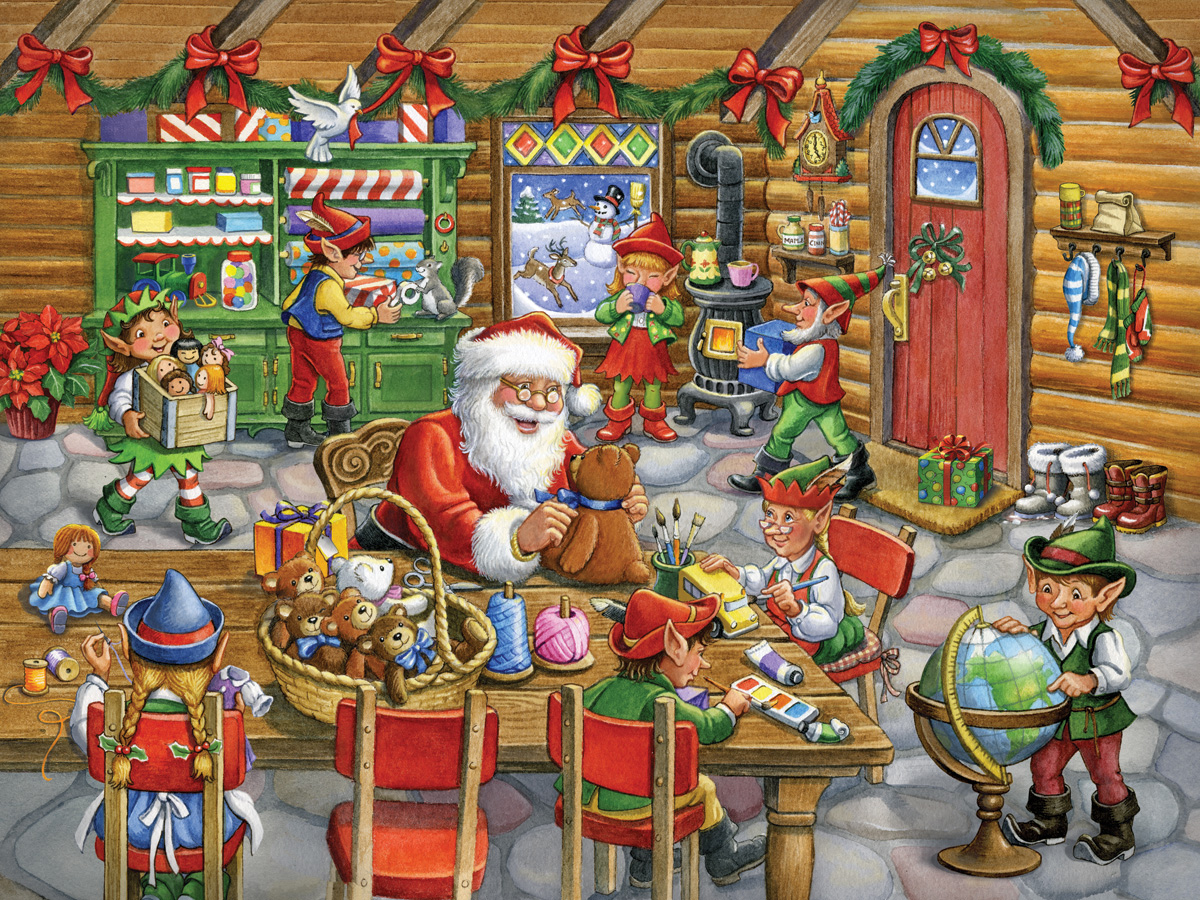 Visual Description:  A Big Wheel, from little hands, to the big belly!
PEHHNY  =  HYPHEN,  FUTYFS  =  STUFFY,  RMEEEG  =  EMERGE,  RAYDLE  =  DEARLY,  RNIHED  =  HINDER,  SLYOGS  =  GLOSSY   —   Giving us:  HETFMEELHIEGS
Clue/Question:  Santa could see the pride his helpers took in their work.  It was clear by their – – –
Pre-Answer:  Three Words (or Two sorta Words)  (4-letters)  "(3-letters)"-(6-letters)
Answer:  HIGH "ELF"-ESTEEM
(Definitely NOT a gimme!  You had to kind of look for the word that wasn't being used in the clue/question, or in the cartoon's dialog.  And, of course, the quotation marks came in handy.  But, then I started worrying about the possibility of the answer not being "politically correct".  Because just about ANYTHING you say, do, or even think can be offensive to someone these days.  You know what I say to that, don't you?  F_ _ _  IT! 
But, back to this marvelous Jumble!  All of today's clue words are old friends, as is the jumble "pehhny".  The other five jumbles came up as new.  I almost started to write out merger instead of "emerge", but I caught myself.  The others I saw instantly.  Hey!  the clue word "glossy" spells out in alphabetical order!  The answer letter layout gave absolutely nothing away.  It took me a couple of looks to figure out the answer.  The only vowels were the I and all those Es, so that was a help.  And then, the quotation marks gave me ELF . . . once I was fairly sure that that wasn't offensive.  Which, of course led me to ESTEEM.  And finally, I got HIGH.  Well, I didn't get high!  It's a little early in the day for that.  But, you know what I mean.  Really cute cartoon.  Fantastic Santa, cute elves, great Big Wheel, a little mallet on the work bench, and some very patient reindeer outside the window, in the snow.  Lots of fun, with this great Christmas Eve pun.  Beautiful Jumble, boys!  Be well and do good, friends.)   —   YUR