Visual Description:  Demanding Math class!
DUEGN  =  NUDGE,  NERDT  =  TREND,  NINBUO  =  BUNION,  MUURQO  =  QUORUM   —   Giving us:  NDETREBUOUM
Clue/Question:  The teacher was happy that those who did poorly on the math test were – – –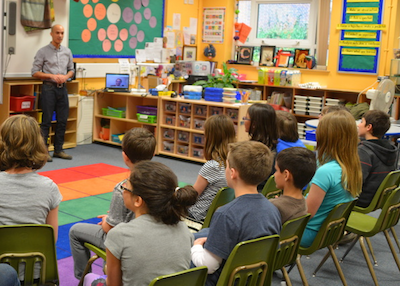 Answer:  OUTNUMBERED
(Hey!  When I was a kid, there were some math classes where I'd have been ecstatic to get a C.  Once upon a time a C stood for average.  And, a D was certainly not great, but at least it was passing.  I guess in today's paradigm As and Bs are expected, and Cs are considered doing "poorly".  My daughter gives out plenty of Ds and Fs.  She doesn't coddle her students, like a lot of today's teachers.  She's a bit of a throwback that way. 
None of today's clue words were new, but there were some we haven't seen in quite a while, like "quorum" and "bunion".  Three of the jumbles were new, but we've seen "nerdt" before.  The answer letter layout was another dandy of a jumble!  I was a little slow on the uptake, and was looking for UNDER something, or something UNDER, for a minute or two.  Then the cartoon and clue/question finally sunk in, and I realized it had to be OUTNUMBERED.  Great cartoon and great Jumble.  So far, Monday's looks to be the toughest of the week.  Be well and do good, friends.)   —   YUR